During a brief moment as a Nature Notebook columnist for The Times, I wrote about my wood planted in 2012 on 1.5 acre of a field with no grant and approx 16 species.
'See the wood' (part 1)
I'm lucky enough to own a sliver of woodland in the Welsh hills. It's a pleasure, although it did cause me some angst when I created it two years ago. For generations, farmers had beaten back the bracken to cultivate a grass field for grazing sheep and here I was fencing half of it off to plant trees. But within days, red ants were at work building soft hillocks in the undisturbed grass as I got down to planting my trees, not in rows but in random clumps — much to the annoyance of my father, a former forester.
We Britons love our trees, as our rebellion against the proposed forestry sell-off in England showed. Yet compared with the rest of Europe we have a sparse covering of trees, and the Independent Forestry Panel, which was set up to advise the government on how best to manage our woodlands, seems to have been sidelined by other priorities.
Future-proofing (yes, guards to go!)

I have decided to set my own priorities and I have big plans for my wood — it must provide a habitat for wildlife, timber for my stoves, cover for game birds, and landscape for my children to play in.
It's a long-term commitment and it may be that the future of the climate finally decides which trees will do well. Even native species will survive only if they suit the soil, so I've gone my own way, slipping in a few alien conifers among the oaks and mountain ash. (Published in The Times 16 August 2014)
'The delights of planting your very own wood' (part 2) 
I'm enthralled by how the wood I planted a few years ago near my house in the Black Mountains is unfolding. Growth spurts of randomly planted trees give it a wonderfully shambolic air: rowan saplings bend with bunches of berries, squat sessile oaks sprout from their bases, red dead-nettles provide pollen for bees, juicy purple bird cherries appear and goldfinch-attracting thistles compete with beech while hoverflies hang in the lee of the Scots pine.
Earlier this year, a male tree pipit displayed overhead — filling the air with song, he alighted on a sweet chestnut. He delighted me but failed to attract a companion. Maybe fox tracks in the grass frighten pipits from this vestige of woodland.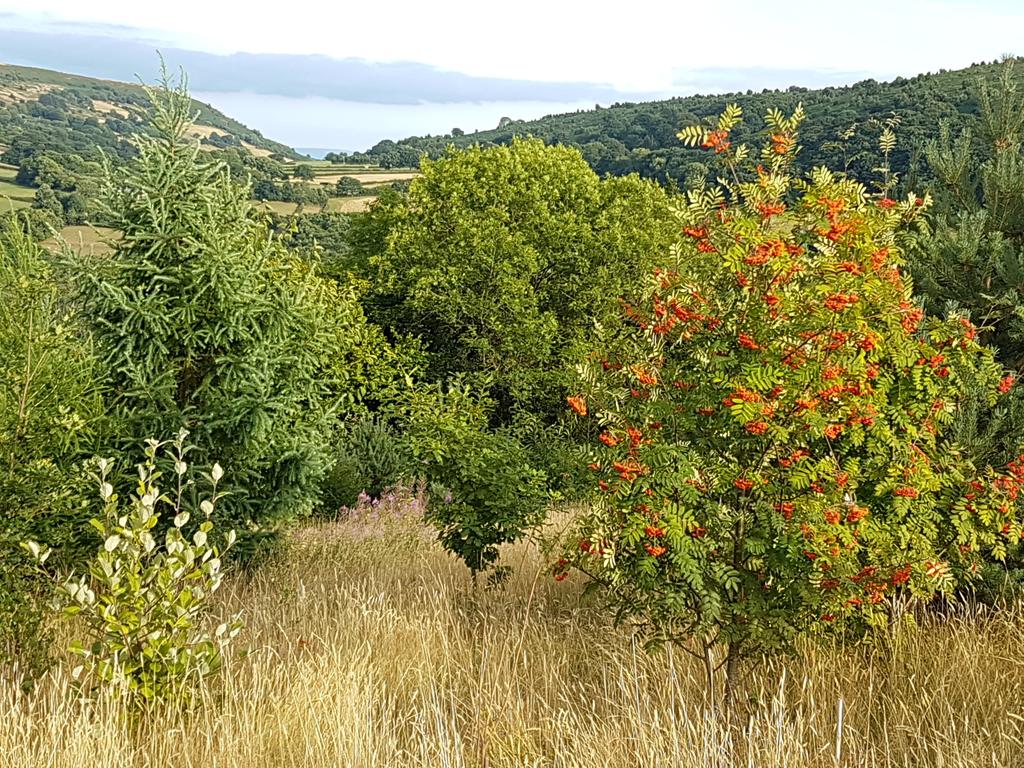 Fragmented pockets of habitat do little for wildlife. Populations of marsh tits are declining because they cannot bring themselves to fly across open terrain in search of mates.
I've sought to connect my wood to its surroundings by taking advantage of tree packs from Coed Cadw (woodlandtrust.org.uk) to plant a thick hedgerow interspersed with my own aspen and whitebeam for a pale, leaf-fluttering effect. Nature adapts fast. Making room for the new trees, I used a chainsaw to remove the overshadowing branches, and later discovered that a redstart had reared its young in a hollow bough I had left wedged against the fence. (Published in The Times 22 August 2015)
Addenda
My recent letter on forestry in The Times (2019)  – see here
Another knotty forestry blog here and me on TV talking trees Jan 2020
Harvest April 2020  – see here