Extraordinary experiences with raptors make for deep thoughts (refreshed Nov 2022)
I lie in a rowing boat, rod to one side, drifting across the lake in the Welsh mountains listening to brown trout rising. Gazing up, my eyes focus on two spots getting larger by the second…they loom into view, I realise it's a peregrine stooping – its prey, no cover in sight, a blur heads directly for me…..splash! The falcon, ripping air, veers off as a racing pigeon emerges from the water to bob nervously on the stern of the boat. I continue on fishing with the pigeon until it makes a break for home.
Squeezed, mobbed, bounced
Raptor moments are seared into memories. A sparrow hawk squeezing a song thrush to slow death in front of a transfixed office audience. Picking up a golden eagle pellet, still warm. A peregrine repeatedly stooping onto a blackbird, bouncing it like a football in front of fascinated children.
Close up, working close to Langholm moor's nesting hen harriers. Being chivied from a secret osprey nest by a protective landowner in the 80s. Mobbed by hobbies while swimming illegally in a reservoir. A barn owl hovering feet from my face while out wildfowling on an early dawn.
Curious on intra-guild
But I check myself. An adoration of birds of prey pervades. But do we risk diverting our gaze from important conservation issues with this groupthink reverence towards raptors? How in fact is nature operating in a far-from-perfect human-dominated habitat-depleted ecosystems?
The reintroduction of raptors is an attractive well-researched idea. Intraguild predation* of native smaller raptor is an unattractive under-researched idea.
Kes nervous
Raptors assemblages in the UK are changing. It may not be obvious intra-guild predation. But the 'furtive' kestrel I observed trying to stoop in on silage harvest field voles was not the confident falcon I once knew. The lazy group of red kites had instilled the 'ecology of fear' into the lesser raptor. Anecdotal, sure. Pure correlation, yep. Red in tooth and claw, fine. A new mix of raptors, OK. And keep a weather eye on other reasons such as miss-use of rodenticides or wind farms.
But perhaps, as goshawk hunt kestrel, and golden eagles snack on hen harriers, we might owe these complex bird of prey interactions a little more research before some lesser species start dropping too far below the conservation concern radar.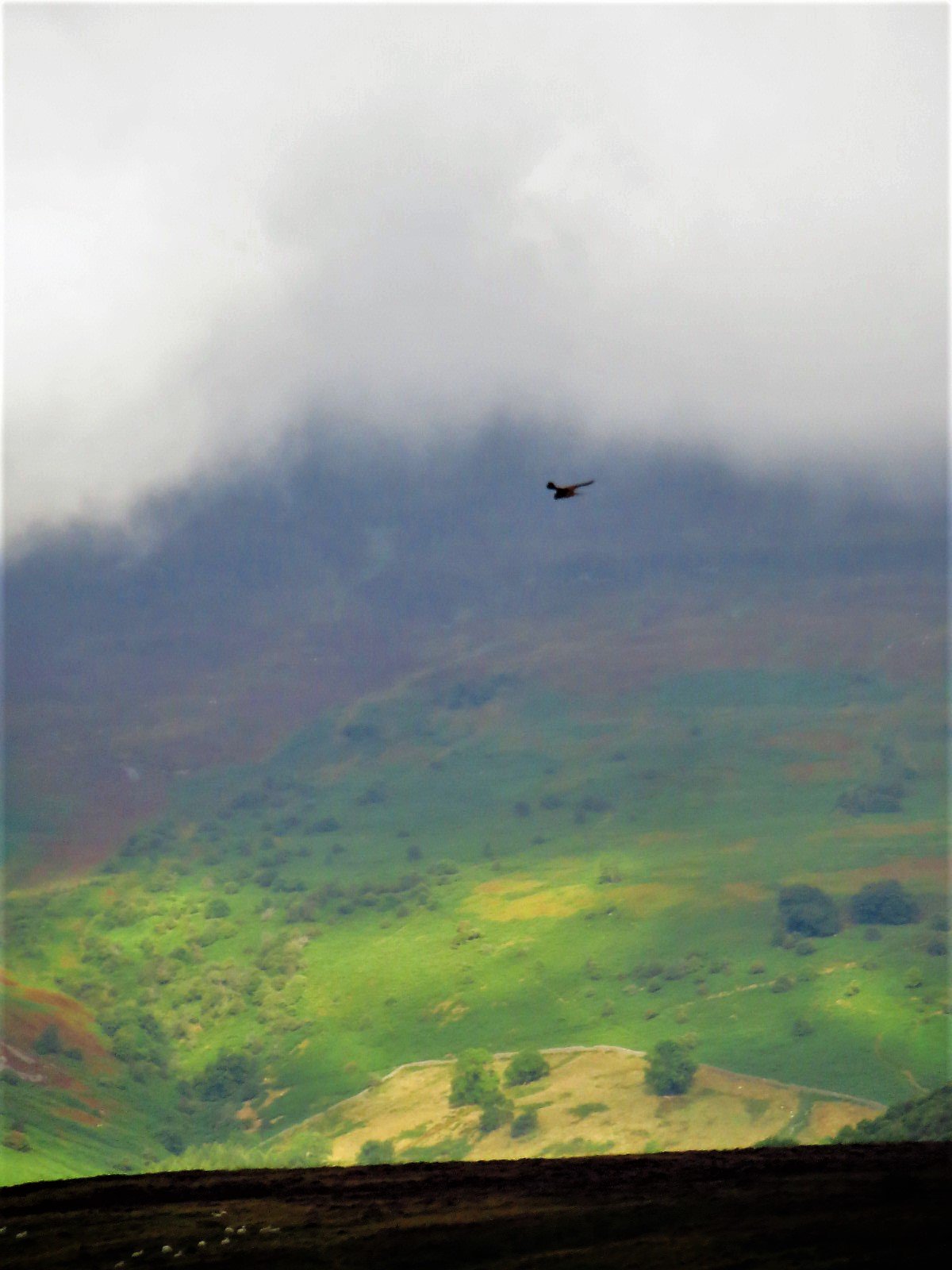 Addendum – Prof Ian Newton's talk – 50 years of Raptor Research, 2017 (incl. intraguild). Full pdf of paper marked * above
Prof Ian Newton on Raptors and grouse moorlands – 2020. My guest blog for RSPB on bird crime – 2016
Sept 2020 – on site owl death in the afternoon – correlation suspected, causation unknown.
Do 'well-fed raptors lay more eggs'? see Conservation Evidence research papers
some relevant letters published in The Times: feeding red kite and kites and aircraft – WT eagle and barn owls